Ophthalmologists are doctors who have completed medical school and four years of medical and surgical residency. They diagnose and treat disorders of the eye, the related anatomical parts and the visual system, as well as manage eye disorders associated with systemic diseases, such as hypertension and diabetes.
Our practice is committed to providing the highest quality care for our patients including cataract evaluations and surgery, medical treatment for glaucoma and exams for diabetic retinopathy. We offer personalized attention in a friendly, courteous environment.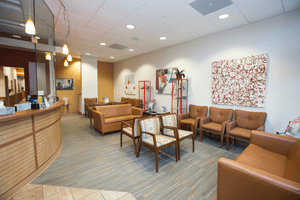 Blue Ridge Ophthalmology traces its beginnings to the medical practice of Dr. Edwin W. Burton, who was born in Texas in 1900. He attended college at Rice University and completed his medical degree and internship at the University of Pennsylvania. Dr. Burton trained in ophthalmology at the New York Eye and Ear Infirmary and came to the University of Virginia (UVA) in 1930 as an instructor in ophthalmology.
At that time, Dr. Burton joined the practice of Dr. Halstead Hedges at 104 E. Market Street — telephone number 33! (Dr. Hedges was an extraordinary individual in his own right. Born in 1867, he played football for UVA from 1890-91, helped found Martha Jefferson Hospital, and died in 1968 at the age of 101.)
In 1940, Dr. Burton became chairman of UVA's Department of Ophthalmology, a position he would hold until 1965. Around 1940, he also went into solo practice (307 East Market) and subsequently was joined by Dr. Hubert A. Marshall in 1958. Dr. Burton continued practicing ophthalmology until his death in 1975.
Dr. Marshall grew up in Roanoke, Virginia, where he attended Roanoke College. After serving in the military during World War II, he returned to complete his medical education and residency in ophthalmology at UVA. He and Dr. Burton moved their medical office to 1400 Jefferson Park Avenue in the early 1960s. Following Dr. Burton's death, Dr. Marshall moved his practice to 408 East Market Street in 1981. He would practice ophthalmology, with integrity and professionalism second to none, for nearly 50 years before retiring in 2007. For many of those years, Dr. Marshall was fortunate to have his extraordinary office manager, Linda Ralston, LPN, by his side. She retired from full-time service in 2014. Dr. Marshall passed away in 2015.
Dr. Ashley H. Schauer grew up in North Dakota and attended college at Stanford University and medical school at UCLA. He joined Dr. Marshall's practice in 1994, following completion of his ophthalmology residency at UVA.
Dr. Andrew S. Collins grew up in Maryland and North Carolina. He attended college at North Carolina State University and medical school at Wake Forest University. He came to Charlottesville for residency at UVA and upon completion in 2003, joined Dr. Marshall and Dr. Schauer at their East Market Street office. In 2006, Blue Ridge Ophthalmology moved to its current location at 626 Berkmar Circle.
Dr. Ellen Chance Sanders grew up in New Bern, North Carolina, and attended college at the University of North Carolina at Chapel Hill. She completed medical school and her residency in ophthalmology at Wake Forest University. Dr. Sanders joined Dr. Schauer and Dr. Collins in 2009. She left the practice when she moved to Colorado in 2020.
Dr. Rita DiGrazia Page grew up in Richmond, Virginia. She attended college at UVA. Following college, she taught for Teach for America for two years in Baltimore, Maryland. Dr. Page returned to UVA for medical school and her residency in ophthalmology. She joined Dr. Schauer, Dr. Collins and Dr. Sanders at Blue Ridge Ophthalmology in 2019.
Blue Ridge Ophthalmology is fortunate to have a history of serving the ophthalmic needs of Charlottesville and environs for nearly a century. Our practice has many patients whom Dr. Burton saw for their first eye exams as children, whom Dr. Marshall fitted for contact lenses as adults, and now are having one of our current doctors remove their cataracts or treat their glaucoma.
While the field of ophthalmology, as well as medicine in general, faces many challenges going forward, Blue Ridge Ophthalmology intends to continue its tradition of providing exceptional care far into the future.